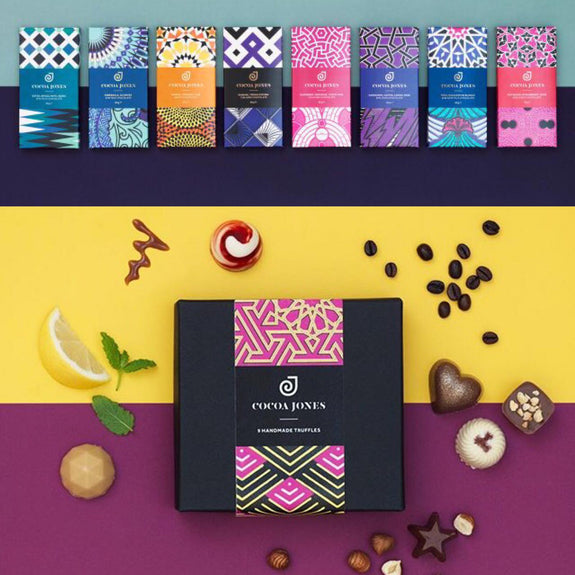 Chocolate subscription, just £19.95 a month
£59.85 GBP
A subscription with Cocoa Jones gives you, our valued customer, a stylish box of  handmade truffles, a delicious bar ... and so much more...
A selection of nine freshly made truffles;
One of our range of luxury bars;
Plus a special, exclusive chocolate gift;
Delivered direct to your door every month;
Price includes postage to any UK address;
Subscribers also receive exclusive discounts and offers.
Subscriptions are available for either three months, six months or one year.
Every month you will receive a sumptuous selection of our finest milk, dark and white chocolate truffles, in tempting flavours including yuzu, pistachio and salted caramel. All delicately shaped and beautifully presented in a striking Cocoa Jones gift box.
One of our luxurious chocolate bars; it could be our banana, pecan and caramel bar made with organic dried ndizi bananas, toasted pecans and topped with a drizzle of our homemade smoky salted caramel sauce.
And, don't forget you will also receive our special chocolate gift every month. This could be some new truffles we're trialling, a miniature bar, our delicious hot chocolate stirrers or our addictive chocolate pretzels.
If any month you decide that you would like to gift you subscription, just drop us a line. We are happy to have your chocolates delivered to any UK address. Just let us know by the 7th of the month.
Our subscriptions are priced at £19.95 per month, and you can place an order for our three-month, six month or annual subscription package here.