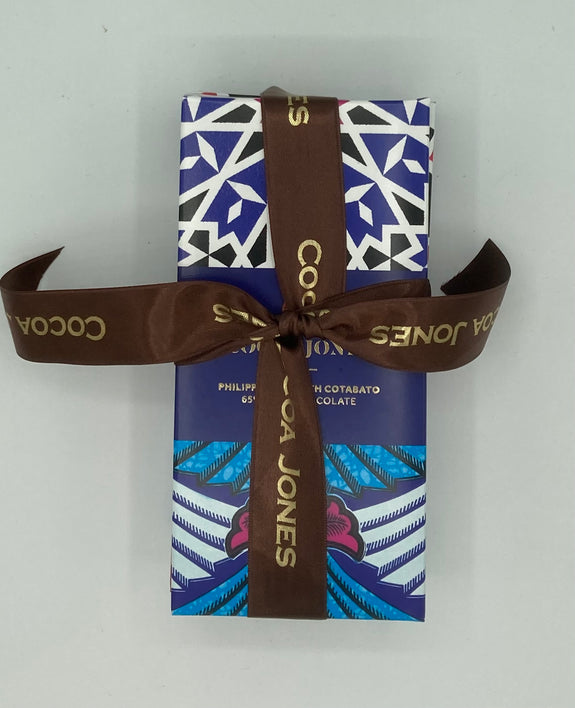 Coronation: 'Bean-to-Bar' Gift Set
£19.95 GBP
As De La Soul expressed far more eloquently than we ever could, "Three is the magic number."
In celebration of the Coronation of The King and Queen, we present a very special offer; three single origin bars, made in the UK, gift-wrapped and available with a 10% discount on their normal price. 

The beans for the first bar were sourced from South Cotabato in the Philippines. Known as the "Land of the Dreamweavers", its a picturesque region of lush forests and lakes which is a popular holiday destination for Filipinos. The bar is a new addition to our range, with the couverture made by Anisa & Chocolate, a small-batch chocolate maker in Cambridgeshire. This is a bar of smoky dark cacao with an aromatic mix of caramel and dried fruit. 
The second bar in the gift set is a personal favourite. Our Venezuela Ocumare bar is a smooth, well-rounded milk chocolate full of captivating complexity, with subtle notes of dark treacle toffee. The couverture is made by the award-winning Duffys Chocolate, based in Lincolnshire. 
The final bar is the return of an old favourite. We first introduced the Nigeria, Eti-Oni bar in 2019. It's light floral notes with a touch of nuts and warm spice are as exceptional now as they were then. After two years of searching, a trip to the Lagos home of His Royal Majesty of Eti-Oni, the Oba Dokon Thompson, finally yielded a sustainable supply of beans.
The Philippines and Nigeria bars are not available online until their 'official' launch in June, so celebrate an extra bank holiday with a gift set that is not only a great bargain but absolutely a case of the early bird catches the 'cacao'.